NEWS
18.12.2019
Nominet Releases Updated ccTLD map for 2019
Eleanor Bradley of MD Registry Solutions and Public Benefit has published an interesting map on which countries are resized according to the number of ccTLD domains registered. For yet another year, the tiny island of Tokelau dominates, with over 25 million domains registered. Its popularity is due to .tk domains being available free to all, while no expired domains are ever deleted, allowing the total to continue to build.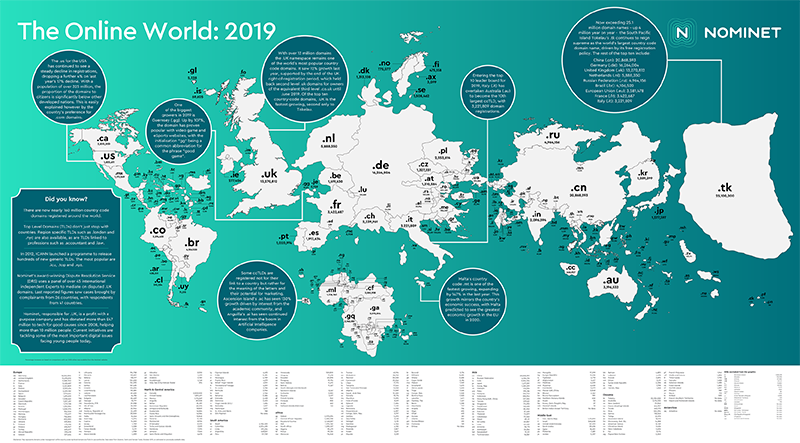 The next largest countries on our map are China, Germany and the UK. According to recent statistics, ccTLDs account for 41% of all domains and number around 158.7 million in total. Almost half of all those are in Europe – 72 million – where countries seeing the highest growth this year include Poland (.pt), Ireland (.ie), France (.fr) and Estonia (.ee). It's often hard to pin point exactly what feeds this growth; it could be growing patriotism, a rise in connected households and businesses, or because certain letter combinations are becoming attractive from a marketing perspective.
Two different examples demonstrate the differing appeal of a ccTLD. Firstly, Malta's .mt grew by 146% in the past year. This growth mirrors the country's economic success, with the country predicted to see the greatest economic growth in the EU in 2020. Then we have Guernsey's .gg, which grew 107% over the year due to the appeal of the letter combination to video game and esports websites. They recognise the 'gg' as a common abbreviation of 'good game' and therefore view the domain as a great marketing tool.